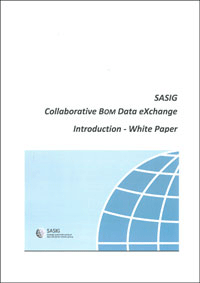 For several years, the automotive industry has implemented, for resources optimization or delivery of new value, new business scenarios illustrating the relationships between:
Allied manufacturers
Manufacturers and their suppliers
Joint-venture partners
Design service providers
These new scenarios require a high level of collaboration between companies and increased data exchange needs in many areas. In the sector of engineering, the exchange of Bill of Materials (BOM) and Digital Mockup (DMU) data is fundamental in order to support the collaboration between companies.
If DMU data exchange is already in use, BOM data exchange is an emerging requirement and is very complicated. This can be explained by the fact that each company implements its own principles, rules and mechanisms in order to manage BOM data, introducing data compatibility and mapping issues. 
The Japan Automobile Manufacturers Association (JAMA) and The Automotive Industry Liaison Improvement Group (GALIA) have started together bilateral discussions about this topic as a project and it has been turned into a SASIG working group, supported by AIAG. 
The SASIG Collaborative BOM Data eXchange (SASIG-CBDX) project is developing a set of recommendations to guide companies towards effective and efficient data exchange practices. The recommendations are divided into four themes:
Introduction – White paper
Use case between manufacturers and between manufacturers and suppliers
BOM basic concepts
Mechanism and organization of data exchange.
This document contains an introduction about BOM Data Exchange within the automotive industry. It allows a company to understand the generalities about BOM, key issues and business drivers, to understand current industry practices, problematic points and needs, as well as to understand our vision on future challenges and SASIG-CBDX approach.