White Paper on the measurement data exchange standard (English version)
Available in
PROM1_V1R1-en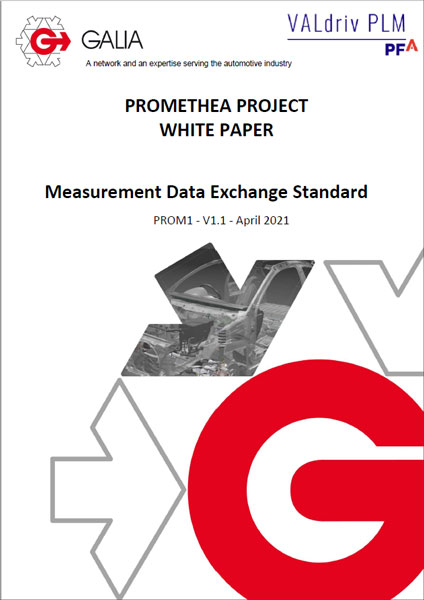 The purpose of this document is to present all aspects of PROMETHEA. Through this project, three automotive industry topics will find ways to improve:
Non-compliance may be a major quality issue
Benefits developed in industrialization that generate too many additional costs related to changes
The construction of documented statistical assumptions for reliability calculations or "rating chains" more representative of the real.
The PROMETHEA Standard Exchange Protocol Implementation Guide details the common data model based on ISO 10303-242 (STEP AP 242). With the introduction on the market of solutions implementing the format developed during the PROMETHEA project, industry will have the tools to eliminate non-conformities and design in a more robust and cost-effective manner. A certification process for these solutions, proposed by GALIA, will enable companies to recognize them.
French version available here.
Description
Contents:
Introduction
History
Context
Somes technical explanations
Scope of activities treated by the PROMETHEA Project
PROMETHEA Project implementation
Common model to facilitate communication
Technical demonstrator
Functional content solutions using the PROMETHEA exchange protocol
Homologation process
Conclusion : PROMETHEA serving 4.0 challenges